Coming soon to Disney Channel and Disney+.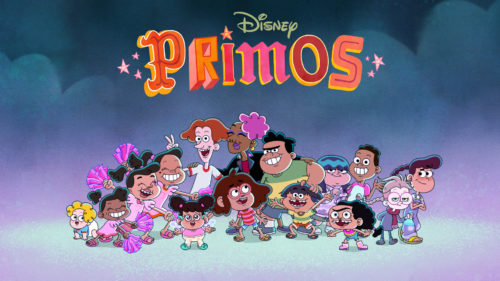 "From Emmy Award-nominated creator and executive producer Natasha Kline, "Primos" introduces Tater Ramirez Humphrey, an eccentric girl with big dreams, determined to find what makes her extraordinary. When her 12 chaotic cousins ("primos" in Spanish) move in for the summer, they help her discover her true self. The series is inspired by Kline's childhood experiences with her extended multicultural Mexican American family.
"The newly announced main cast includes Myrna Velasco as Tater Ramirez Humphrey; Melissa Villaseñor as Tater's younger sister, Nellie Ramirez Humphrey; Michelle Ortiz as Tater's mom, Bibi Ramirez Humphrey; Jim Conroy as Tater's dad, Bud Humphrey.
"The recurring cast includes Angélica María as Tater's grandmother, Buela; Liza Koshy as Tater's friend, Serena; and cousins Becca Q. Co (Lotlot), Cristina Valenzuela (Tere and Toñita), Elizabeth Grullón (Lita), Jonathan Melo (Scooter), Sarah Tubert (Cookita), Natasha Kline (Gordita and ChaCha), Nomi Ruiz (Tabi), Rick Simon (Big Nacho and Cousin Bud) and Ryan Anderson Lopez (Nachito)."